Description
Keeps Ponds Clean & Clear!
Specially Formulated for Decorative Fish Ponds, Lagoons & Smaller Water Features
Creates a cleaner environment for your pond, promoting faster fish growth
Reduces ammonia nitrogen levels
Dissolves away organic sludge
Seeds and maintains biological filters
Significantly reduces noxious odors caused by dead algae, fish fecal matter, and urine
Reduces hydrogen sulfide, which creates strong, offensive odors
Reduces biological oxygen demand (B.O.D.)
Reduces buildup of bird droppings, fish feed and dead leaves
Breaks down dead algae
Improves dissolved oxygen levels
Contains photosynthetic bacteria which reduces cloudy water by promoting flocculation and settling of organic and inorganic particles
Effective over a wide range of pH conditions
Continued biological activity even in water temperatures under 55°F. (12°C.) PL
Dosage (oz.)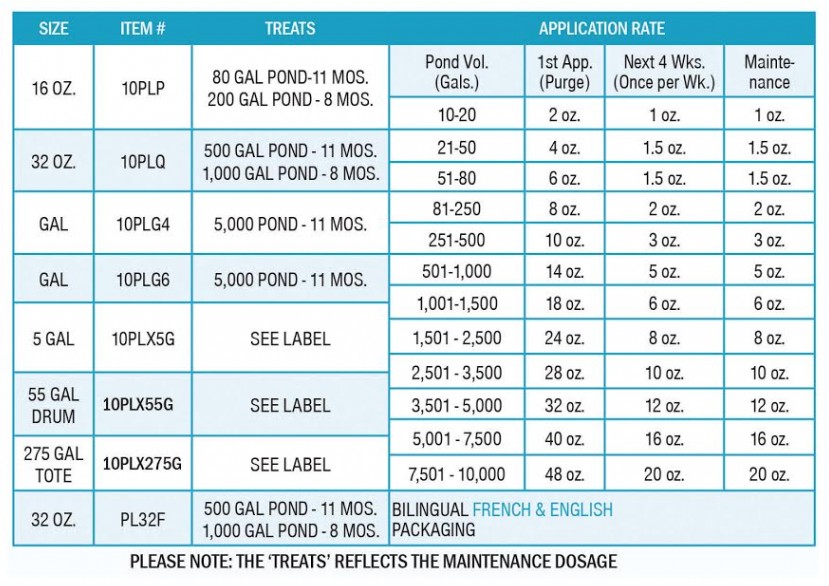 Welcome to the Exotic Wings & Pet Things Reward program!
If you set up an account with a verified e-mail address you will automatically be signed up for our rewards program! It's that easy!
Our program currently consists of both points & referrals!
Access your rewards by clicking the blue rewards widget on the bottom right of your screen.
Points:
For every dollar you spend before taxes and shipping, you are rewarded a point!
Save your points to claim your reward at checkout
500 Points = $10.00 off an order over $50.00
1000 Points = $20.00 off an order over $100.00
Referrals:
Sign into your account and share your referral link!
Located at the bottom of the rewards widget on the bottom right of your screen.
They get a $5 off discount (For orders over $50.00)
You get a bonus 25 Points!
Have questions about our rewards program? View rewards FAQ's.
Payment & Security
Your payment information is processed securely. We do not store credit card details nor have access to your credit card information.